Real Madrid Foundation Technification School Singapore Programmes
Our Technification School caters for any player aged 6 to 17 years old. We offer two differentiated programmes (Team Training and Technification) to accommodate to your time availability, previous experience, ability level and time you want to dedicate to football. Players are grouped primarily by age while certain participants may be invited to play up. Age groups applicable from 15 Aug 2016 to 13 Aug 2017 are:
Available for
Age group
Years of birth
Team Training
Technification
U7
2010
–
yes
U9
2008 and 2009
yes
yes
U11
2006 and 2007
yes
yes
U13
2004 and 2005
yes
yes
U15
2002 and 2003
yes
yes
U17
2000 and 2001
yes
yes
Are you a dedicated footballer? Train twice a week (weekdays), commit for the entire season and be part of a group of players to whom the coach will lead to achieve annual goals. Team players are offered match opportunities. We have teams for players born 2009 to 2000.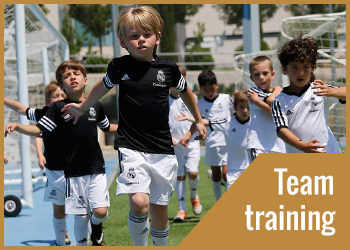 Are you a beginner? Do you want to have a regular physical activity? Do you have availability on weekends? Join our Saturday and/or Sunday sessions. While having fun is central, our coaches apply our methodology to ensure physical, technical, tactical and psychological goals are achieved.
On 15 August 2016 we started our team training programme for the August 2016 to June 2017 season. This is a "by invitation only" programme. While most of the slots are taken as the season has started, if this is the programme that fits you, please come and try out with us and we will do our best.
Programme description
Tuesday/Thursday or Wednesday/Friday team training sessions for the entire season with a selected group of dedicated players
A full season goal based curriculum designed for each specific age group following our methodology
Bi-annual full assessment report
Exposure to different ability levels and age groups
Training at Turf City
In addition, all team team training participants will be offered competition activities under a distinctive brand (Spanish Soccer Club Asia) but always by the same coaching staff.
Expectations from players
previous football experience and dedication
commitment to train with the team on the designated days and be part of the team for the entire season
availability for participating in the competitive events
observance of a code of conduct
unlimited willingness to enjoy and learn
Team training fee
$2,600 of which 60% is due by 1 August 2016 (or joining date) and the rest 40% in December 2016
Pro-rata if the player joins after 15 August 2016
Season from 15 August 2016 to 25 June 2017: 43 weeks or 86 training sessions plus the matches and tournaments
It includes all associated costs with competition activities in Singapore
Other important considerations
Given the amount of resources we commit to this programme, we take registrations only for entire season or
for players joining after 15 August 2016 from start date to the end of the season (pro-rate fees)
This is a "by invitation only" programme, you are welcome to try out with us for free at any of the open technification sessions over the week.