Nanyang Junior College CCA
SPORTS CCA's
Badminton
Badminton, a whole new dimension of excitement and fun yet keeping players fit as they chase after a single shuttlecock everywhere around the court!
Advertisement
Badminton is a racquet sport that can be played by two opposing individuals (singles) or two opposing pairs (doubles). Players begin the game by taking up positions on opposite halves of a rectangular court that is divided by a net. The sport demands a high level of aerobic stamina, agility, strength, speed and precision.
The NYJC Badminton Team trains twice a week – Tuesday and Thursday – with additional training sessions before the tournament. Court training sessions take place from 5 to 7.30pm and involve footwork, drills and improvement of individual player's technical skills. Physical training sessions follow after, from 7 to 7.30pm. We take part in various competitions such as the National Schools 'A' Division Championships and the Pilot Pen Cup and we also organize friendly matches. Through all these activities, we gain exposure to a wide range of game play and learn the styles adopted by others, thereby helping us become better players.
However, the NYJC Badminton Team isn't all about hard work alone. We also make short trips to places such as Batam where we learn and train with players beyond Singapore. The experience of playing together and learning from one another not only strengthens the bond among members of our team but also instills the values of diligence, perseverance and excellence in each of us.
Basketball
Basketball is a game of 100% focus, teamwork, agility and accuracy with two competing teams pitting against each other to win the game.
Led by Coach Andre Wong, the NYJC basketball team trains every Monday and Thursday for the boys and Tuesday and Friday for the girls, from 6pm – 8pm. Under the strict supervision of Coach Wong, we train hard and participate in the National Schools `A' Division Championship every year and strive for the best results.
Though basketball may seem like a simple game of scoring baskets that is known to most, the effort required to play the sport on a competitive level as a team is more than that. Through the tough training sessions, we grow and improve as a team, learn to trust each other, overcome any obstacles hindering our progress and develop the chemistry between each and every one of us — in short, becoming a family. You will never truly understand the sense of accomplishment of fighting alongside your teammates on the court unless you participate in this sport.
So what are you waiting for? Come join NYJC basketball and embark on this journey with us!
"Join us as teammates, leave as family!"
Dragonboat Team
Imagine. You. Dragonboat.
Imagine: the wind in your hair, water splashing against your face, as you row at speeds of up to 12km/h and beyond. This is Dragonboat Racing. Dragonboat is one of a family of Traditional Long Boats found throughout Asia, Africa and the Pacific Islands. It is now used in the team paddling sport of dragon boat racing.

The paddlers sit facing forwards and use a specific type of paddle which is not rigged to the racing watercraft in any way. The paddle now accepted by the world racing federation has a standardised, fixed blade surface area and distinctive shape derived from the paddle shapes characteristic of the Zhu Jiang (Pearl River) delta region of Guangdong Province, China, close to where Hong Kong is situated.

This CCA encompasses the values of Teamwork and Discipline, forging camaraderie between the members in the team. These team-mates would then become your extended family for your two years of JC life and maybe even longer. Be it sorrow or joy, you will always find someone to share it with. You may come across trials during your journey but with your team-mates facing it alongside you, it makes it a greater experience once it has been overcome. Awards are the mere bonuses you get, but the crux of it all is the true treasures, the friends that you would have made during your time in Dragonboat.

WE TRAIN HARD but we remember to play too
WE PLAY HARD but we know when to study too
WE STUDY HARD and we know YOU will be great if YOU join us today
So what are YOU waiting for?

Floorball
Floorball is an indoor sport which originated from Sweden and has gained popularity in countries like Australia, Canada, Japan, United States, Germany and Singapore in recent years. It demands a high level of physical fitness and mental fortitude from its participants and is a game that requires a high level of commitment and patience to master the basics. Since its infancy as a Student Initiated Program (SIG), NY Floorball has come a long way; it has been inaugurated as an official CCA of our college and members of the NY Floorball Team, both past and present, are known for their high level of fitness, determination and resourcefulness.
The team currently trains three times a week (Mondays, 4.30pm – 6.30pm; Wednesdays, 2.30pm – 6.30pm and Saturdays 9.00am -11.00am) and have the privilege of being coached by Mr Jatin Nair and Mr Guhen s/o Markandran – exceptional coaches who place great emphasis on student-centric initiatives like character development, mastering the basics of the game, developing responsible habits both on and off the court and the like.
The team participates in the Annual 'A' Division Tournament and also, in friendly matches with other schools.
Handball
Handball is a team sport in which two teams of seven players each (six outfield players and a goalkeeper) pass a ball to throw it into the goal of the other team. The team with the most goals scored after two periods of 30 minutes wins. A game that requires both teamwork and physical fitness to make the most out of it, Handball gives you the adrenaline rush, making it an exciting game both on and off court!
Training Sessions
The NYJC Handball Team trains twice a week – on every Monday and Thursday, 5.30 – 7.30 pm. Training usually involves court skills along with physical training. Our team is coached by Mr Tan Eng Choon, an experienced coach with many years of coaching under his belt.
Despite the rigour involved, training sessions are also fun and enjoyable, with a lot of emphasis on team building. As handball is considered a relatively new sport compared with other sporting CCAs, we strive to make handball a widely known sport both within NJYC and in other colleges as well.
Think you got what it takes to excel in handball? Think no more, join us now!
Judo
'We pin, we lock, we choke and we throw if you are slow'
Judo is best known for its spectacular throwing techniques and considerable grappling on the ground utilizing specialized pins, control holds, arm locks and choking techniques. Judo develops discipline and respect for oneself and others. It provides the means for developing self-confidence, concentration and leadership skills, as well as that of physical coordination, power and flexibility.
The NYJC Judo Team participates in the National Schools Judo Championships and many other national competitions organized by the Singapore Judo Federation. In preparation for these major competitions, both the Girls' and Boys' teams train thrice a week (till beginning of April) in our college's multi-purpose room to sharpen our techniques and to build up our strength. Training sessions are on Mondays, Tuesdays and Thursdays from 5pm to 7.30pm during term time and the holidays. These sessions give us great exposure and confidence.
In 2015 the Boy's team managed to come in as first runner-up in the National Team Championships and our many other glistening medals stand as testimony to the months of intensive and grueling training under our skillful and experienced coach Mr Gerard Lim. We aim to bring pride to our college and ourselves. All are welcome to join our team and our practices.
Netball
Netball is a team game that requires teamwork, speed and accuracy. There are seven main positions and they are split into three groups: shooters, midfielders and defenders. The seven players on court have to work together to bring the ball down the shooters quickly to put in the ball to score a goal. Netball is also a game of discipline as it requires focus and concentration in order to perform on court. All in all, it is a fun and exciting game that thrills and excites both the players and audience as the outcome is never certain.
The Nanyang netball trainings take place twice a week, on Tuesday and Thursday with additional trainings prior to the National A division tournament. Training starts from 5.30 – 7.30pm under our coach Mr Christopher Koh, at the school's parade square, Apart from the A division tournament, we also take part in leagues such as the Katana Netball League, as well as organise friendly matches with other schools. As a team, we often watch national netball competitions like the Nations Cup together.
If you think you have what it takes, then join netball and get ready for a whole new playing experience! The netball family welcomes you!
Soccer
An introduction to Soccer and the way in which the game is played is probably not necessary here. After all, it is the world's most popular sport, appealing to the vast majority, whether young or old.
The NYJC Soccer team believes in striving together to achieve a common goal – to attain results and bring pride and glory to the school. The game of soccer is all about teamwork. To this end, our team is a closely-knit one where everyone makes an effort to bring about a happy and fun atmosphere, thus fostering great camaraderie. We also share a common but very important motto which is to always put the team first before self.
The team members have had many values instilled in us by our coach, Tan Sio Beng and teachers-in-charge. Determination and diligence are the core values that have helped us tremendously throughout our journey, especially during the 'A' Division matches where competition is extremely keen.
Our training is usually held thrice a week on Mondays, Wednesdays and Fridays at 5.30pm, but reduced during off-season and examination periods. With the new synthetic field, an excellent facility, the team members are enjoying fruitful training sessions, as well as having a good time outside the classroom.
Squash
Are you game for a fast-paced game of strategic moves and great display of one's techniques? Then join Squash!!
Squash developed from at least five other games involving racquets/gloves, and balls and has roots in the early 1500s in France. Squash, with its element of hitting balls against walls, was for individual entertainment. Different from other sports, Squash requires more independent skills rather than teamwork. In a court, there will only be 2 players: you and your opponent. 3 pieces of equipment are required to get the game started: The squash racket, squash ball and the eye gear. Well, of course, one would need a wall from which the ball could bounce.
The NYJC squash team trains every Monday and Friday from 5pm to 7pm and Wednesday from 3pm to 5pm during term time. Our training consists of 3 different aspects: Skill training, Drills and Physical training. After training, players can play squash related games such as Kings or 1 on 1 challenge. There are also several friendly matches held between schools. Our coach is Mr. Rhamanan, who was an ex-National players and a very experienced coach.
So if you love to "Hit and Run"… Come join Squash!
Table Tennis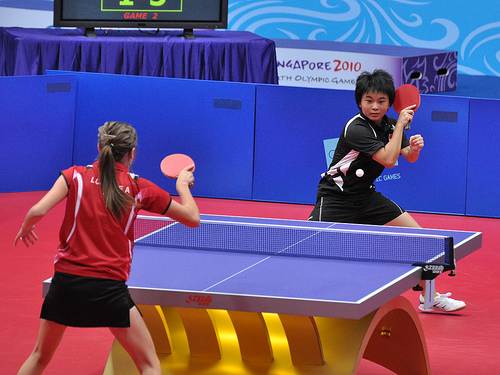 Table Tennis has always been a popular sport in NYJC. The Table Tennis Team has, over the years in the history of the college, won several honours in the National Inter-School 'A' Division Competition. Table Tennis was elevated to become a niche sport in the college in 2007. Since that year, we have consistently done well in the National Inter-School 'A' Division Competition.
Our success is largely attributed to the hard work put in by the team of passionate players who are willing to run the extra mile in training as well as a team of dedicated coaches, the head coach being Mr Qin Zhifeng.
Our training days are Tuesday (4.30 – 7.30 pm) and Thursday (4.30 – 7.30 pm) during regular school days. We will step up our training to 3 times a week when the 'A' Division Competition draws near.
Table Tennis is a game that demands exquisite skills, quick reflexes, mental toughness and lots of self-control. We aim to equip our players with these as well as to develop in them a positive attitude and a strong character.
Tennis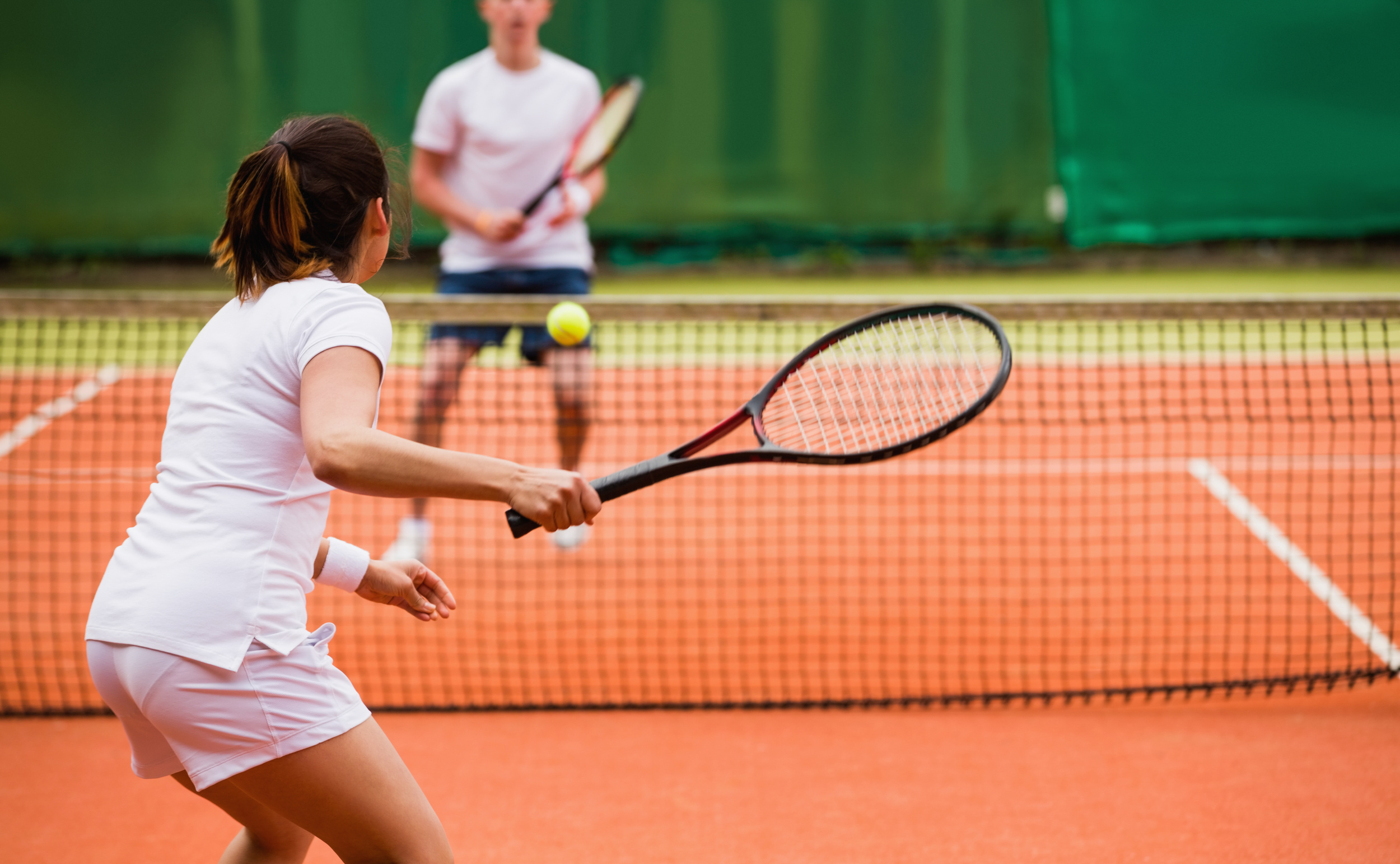 Tennis is a sport played either between two players (singles) or between two teams of two players each (doubles). A common misconception is that tennis is an individual sport. In reality it is a team sport like any other. Team work and team spirit are essential in helping a tennis player reach his fullest potential. It is a game that requires physical as well as mental endurance. In Nanyang Junior College, no prior experience is required in order to join tennis.
Court training for the team is on Monday from 5.30pm to 8pm and Wednesday from 2.30pm-6.30pm. Besides the National Inter-School 'A' Division championships, our team also takes part in friendly matches against other schools. From these matches, we are able to understand our weaknesses and learn from our opponents' strengths, enabling us to play better.
We also have annual tennis camps which aim to bond the new JC1 players with each other as well with the seniors. During the camp, we undergo physical training and court training to strengthen our physical endurance and technical skills. There are of course fun-packed team bonding activities.
Touch Rugby
For the energetic fast thinking girl, touch rugby is the sport for you.
For the energetic fast-thinking girl, touch rugby is the sport for you.
Touch rugby is a team game at its best. It is a game played and enjoyed by many, with players racing across the field whilst the wind whips through their hair, leaving them exhilarated as a try is scored.
The NYJC Touch Rugby team trains every Tuesday and Thursday from 5-7pm on the college field. There are various competitions and tournaments that we actively participate, such as the M1 tournaments held every quarter, invitationals – Tanglin Club, Singapore All Schools, as well as friendly matches.
Advertisement
Besides training hard together, we also organize study sessions. The study sessions are great opportunities for us and the seniors to revise and discuss our schoolwork together.
Volleyball
Volleyball is team sport in which two teams of six players are separated by a net. Each team tries to score by grounding a ball on the other team's court under organized rules. As a team sport, everyone in the team needs to be co-operative and disciplined. It requires not only skills, but also perseverance and a high level of fitness.
The volleyball team trains twice a week, Wednesdays and Saturdays for the girls' team, Tuesdays and Fridays for the boys' team, with an extra training session when a competition is near. Fitness training sessions take place from 5.30pm to 6.30pm and Court training sessions take place from 7pm to 9.30pm. It is important to maintain a high level of physical fitness and hence the fitness training sessions are crucial. Court training sessions brush up skills that are needed to excel in the sport. We take part in the annual National 'A' division volleyball championships which colleges from all over Singapore, participate in. Through this competition we have gained insightful experiences from other teams, which have different playing styles that we can learn and put to use in future.
Volleyball is a sport that not only requires the player to master skills and to attain fitness, but also team bonding. Hence we travel overseas yearly to places such as Malaysia, Taiwan and China, to strengthen our bonds. These overseas trips were memorable in many ways and have definitely made our ties stronger and closer.